RECIPE
Creamy Potato Soup
Are you the type of person who can only eat soup when it is cold out? I am that type of person, but my kiddos are not. And Jimmy just doesn't eat soup, I have now idea why. 🤷‍♀️ With cooler weather coming, I feel like soup time is here for a lot of people, especially on cold dreary days. One of my favorite soups growing up was potato soup, however this potato soup isn't my mom's recipe. This is my recipe. When it gets cooler, like in 40's, I will make my mom's potato soup. It's the one thing I like about cold weather, I will enjoy a bowl of soup.
Btw the bowl in this picture was my mom's and it's our favorite soup bowl in our house.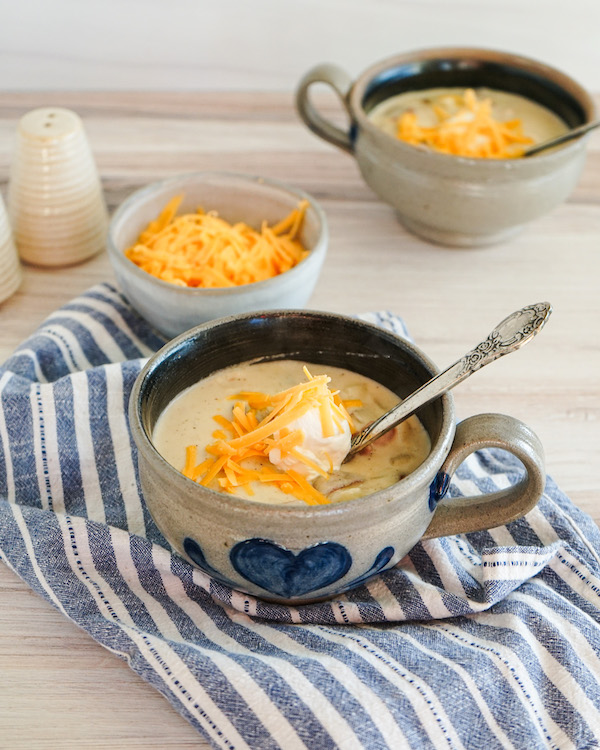 Back to this soup recipe!! My kids love soup, making it for dinner and using it as leftovers for the kids lunches is a win. . I start with chopping the potatoes. I use red bliss, because that is what I honestly buy. Every so often I will buy a different kind, but my go to red bliss, even though I am not a huge potato person. My mom usually bought red bliss, so I do the same thing. Dice the pancetta, you can use bacon if you want. You want that to start cooking and getting crispy. Add in the diced onions and mix together with the pancetta. Mix in a little flour for the thickner for the soup. This is the key for helping the soup to be a little thick. Mix in the milk and chicken broth. Throw in the potatoes and let it cook away.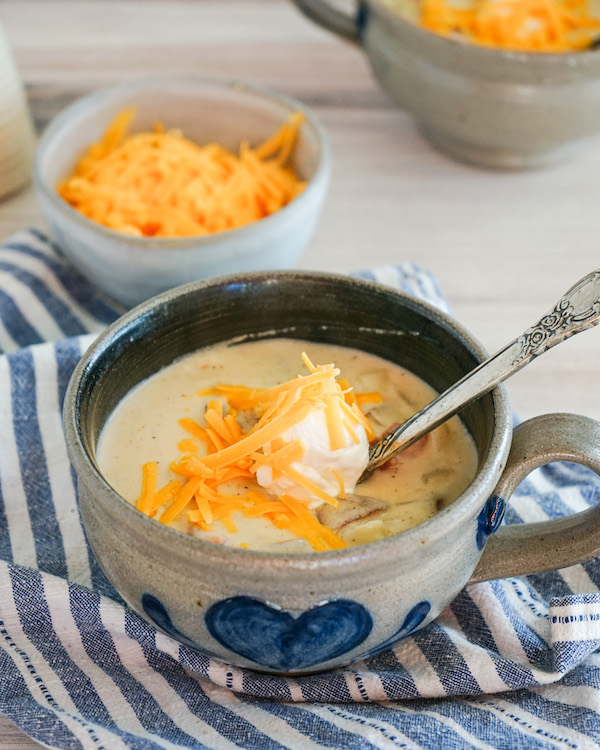 After the soup has cooked for about 25 minutes, you are gonna add in some more good stuff. You know the sour cream and cheese. This is gonna make the soup so creamy and so delicious. I mean its a creamy soup, so sour cream is a great way to make things creamier, especially if you don't have heavy cream on hand. The cheese just add more flavor and really doesn't cheese just about make everything better?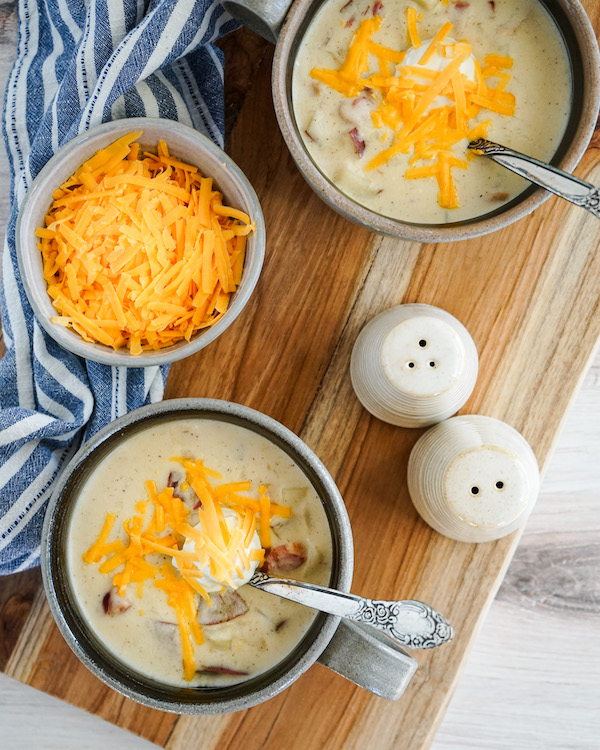 Top with a little bit more goodness, like pancetta, sour cream and cheddar cheese if you want. You won't be sorry!!
That's What's Cookin' From My Kitchen 💕
Billie-Jo
Ingredients
½ pound diced pancetta

½ medium onion diced

2 garlic cloves minced

8 Red Bliss Potatoes diced 

⅓ cup flour

4 cups of milk

1 ½ cups chicken broth

1 cup grated cheddar cheese

1 cup sour cream 

Salt and pepper to taste
Directions
Cut the pancetta and add to a large soup pot. Cook the pancetta on medium heat until a little crispy. Remove the pancetta from the pan when it is done cooking. 

Add the onion to the pot and cook for 5 minutes. Add the garlic and stir for 1 minute. 

Stir in the flour and for 1-2 minutes, before adding the milk. 

Stir or whisk the milk until the flour dissolves completely. 

Add in the chicken broth and diced potatoes. Bring the soup to a boil. Once a slow boil occurs, turn the temperature down to low. Put a lid on the pot slightly open. Let it simmer for 25 minutes.

While the soup is cooking, grate the cheddar cheese if needed. 

Once the soup is about done, the potatoes should be soft. Mix in the sour cream, most of the cheese and most of the pancetta. Save some cheese and pancetta for the top of the soup.

Serve in bowl and top with a little bit of sour cream, cheddar cheese and pancetta if desired.
Ready in 45 minutes
Serves 6 people
Tips & Recommendations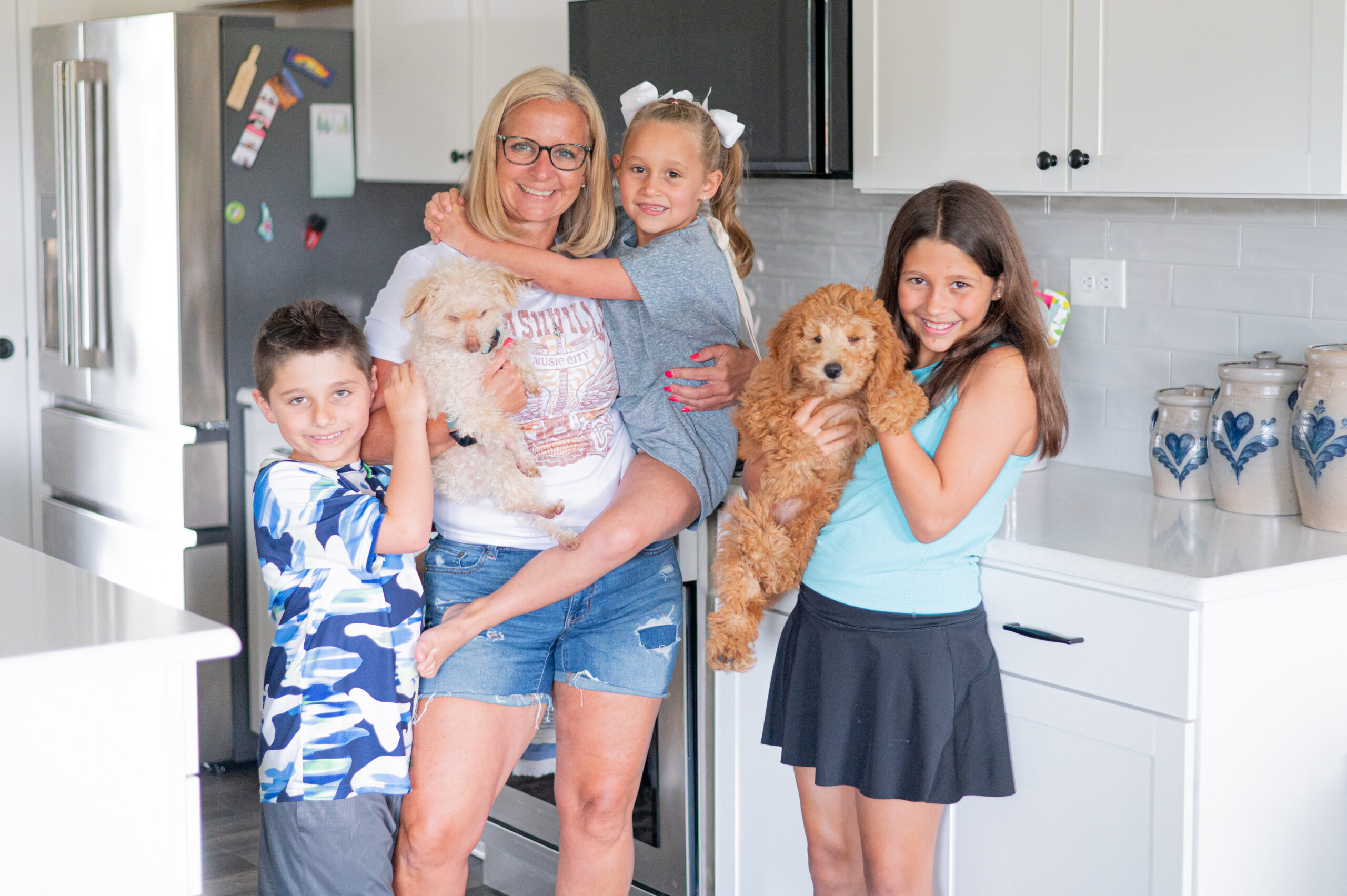 Latest Recipes