RECIPE
Creamy Tomato Soup
My mom made the best tomato soup growing up. My sister and I say we wish had the recipe. So I was determined to come up with a recipe that to me is just as good as my mom's recipe. Mine might be a little more creamier than hers. I really wish she was here to have a bowl of soup and meet my kids. She would love them.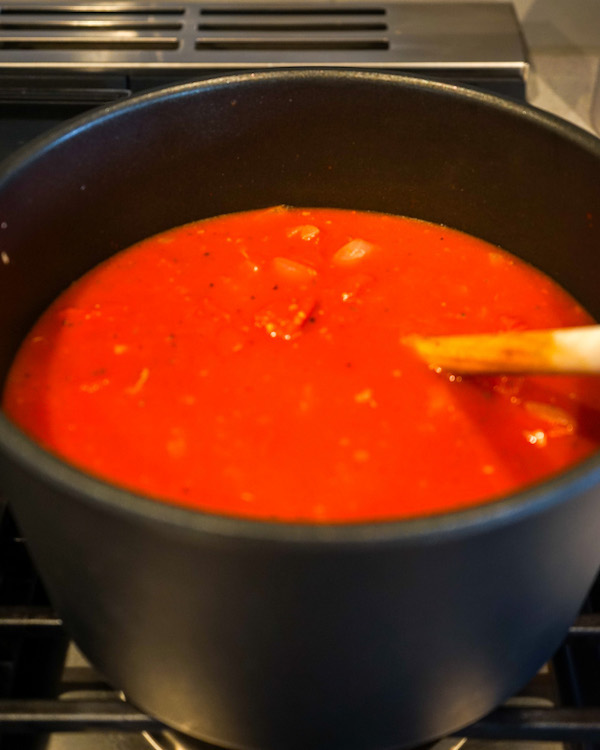 I actually went and bought an immersion blender just for this soup. Don't worry I will find other uses for it and I will share with you. The immersion blender makes it so much easier, but if you don't have one you can totally transfer the soup to a blender. Or if you like a chunkier tomato soup, you can just all diced tomatoes and not blend it.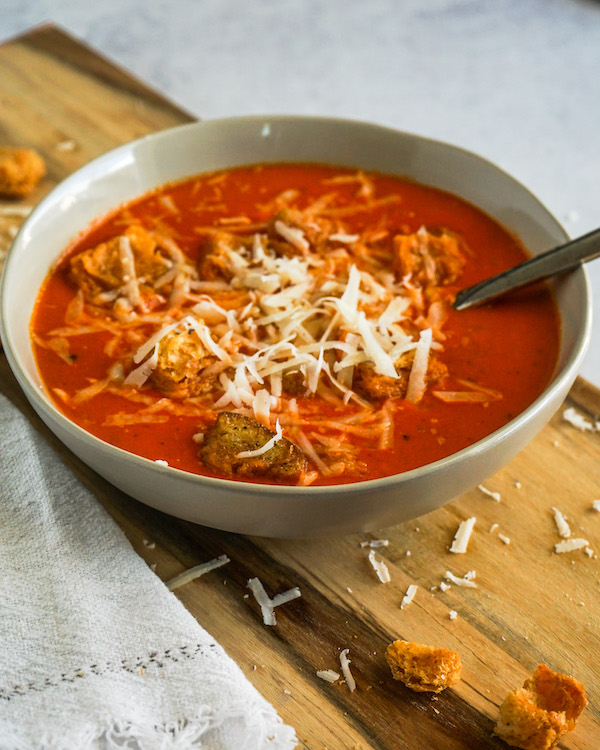 My sister in law told me about San Marzano tomatoes years ago and ever since them they are my favorite tomatoes to use in soups and sauces. I find them to not be as acidy as other tomatoes and have a lot of flavors.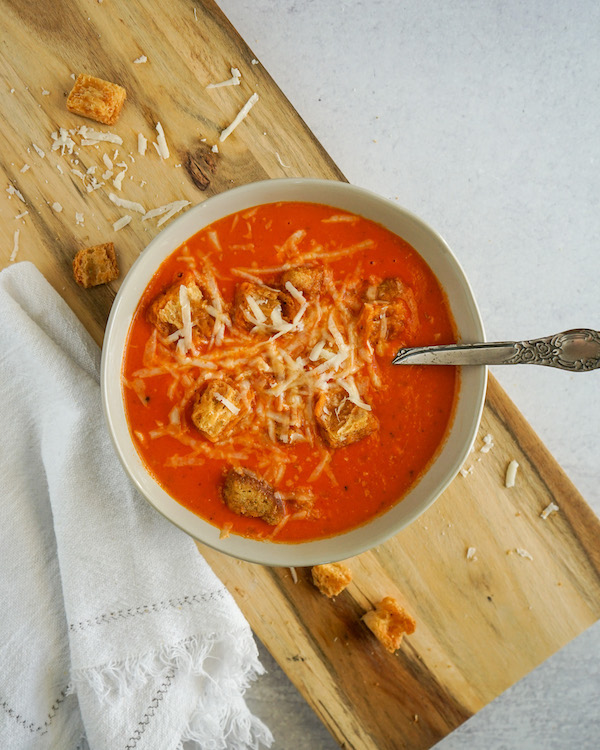 My kids love tomato soup just as much as I do. Which is weird because I don't like tomatoes and they really don't either. So I have been making lots of soup for us for lunch and dinner. One night I made this tomato soup, hoping I had perfected it and the kids loved it so much. They ate almost all of it and begged me to make it again for lunch the next day. So being who I am I told them I would make it (Plus I really didn't know what was going to be for lunch anyway).
That's What Is Happening In My Kitchen 💕
Billie-Jo
Ingredients
3 tbsp of unsalted butter

1 yellow onion diced

3 cloves of garlic minced

1 tsp of dried basil ot 1 tbsp chopped fresh basil

½ tsp oregano

½ tsp salt or to taste

½ tsp pepper or to taste

2 28 oz cans of San Marzano whole tomatoes

1 14.5 oz diced tomatoes

1 ½ cups chicken stock or broth

2 tbsp sugar

1-1 ½  cups heavy whipping cream (I use 1 cup)
Directions
In a dutch oven or a large bottom heavy pot, heat butter over medium heat. Once butter has melted add in diced onion. Let the onion cook for about 5 minutes, stirring occasionally. Add in the garlic, basil, oregano, salt and pepper, stir for a minute.

Add in the San Marzano tomatoes, diced tomatoes, chicken broth and sugar, give it a good stir, to make sure everything is mixed together. Cover with a lid and let simmer for 30 minutes.

Turn your burner off. Use an immersion blender to blend the soup in the pot into a smooth consistency or transfer soup to a blender.  I prefer an immersion blender, it's one less thing to clean and it is so much easier. If you use a blender be careful transferring the soup to and from the blender. 

Turn your burner back on to medium heat. Add in the heavy cream, stir until combined. About 3 minutes. 

Add in the parmesan cheese and stir occasionally until the cheese is melted, about 5 minutes. 

Ladle into bowls, top with fresh parmesan cheese and croutons. 
Serves 8-10 people
Tips
If you can't find San Marzano whole tomatoes, you can substitute another brand. If you find the soup a little too acid, add a little bit more sugar. If you want a creamier soup, go to 1 1/2 cups. Less creamy go to 3/4 cup.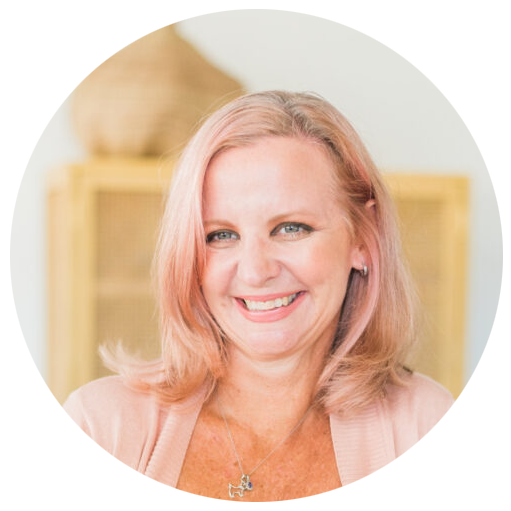 Hey there!!
I'm Billie, a recipe creator, food photographer, a girl that just loves to be in the kitchen and a travel lover. more >
Related Recipes