RECIPE
Crockpot Salsa Chicken
When Fall comes, I break out my crockpot. I probably cooke at least 2 meals a week in a crockpot. I would say at least one of them is a new recipe and one is a recipe I already make. I love crockpot meals, they make dinner so much easier and clean up is super easy too. I love cooking, but dishes is not my favorite thing to do. So anything that can make clean up easier is a friend of mine too.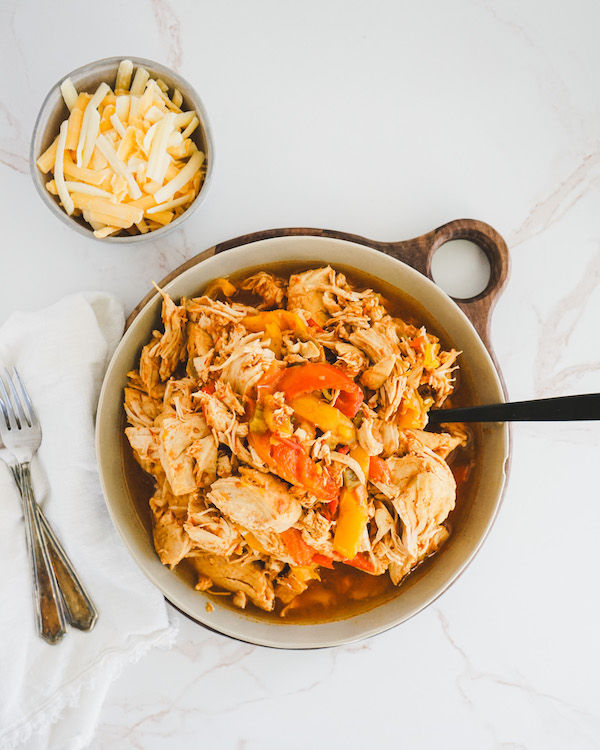 This recipe is only 5 ingredients, that's it. The ingredients are also staples in my kitchen, so I always have them on hand. If you don't keep certain things in your pantry, refrigerator and freezer at all times, you need to start. It is all part of my meal planning and things I do to make my life easier. (it is also something I am working on to help you too). If you want to know more, let me know.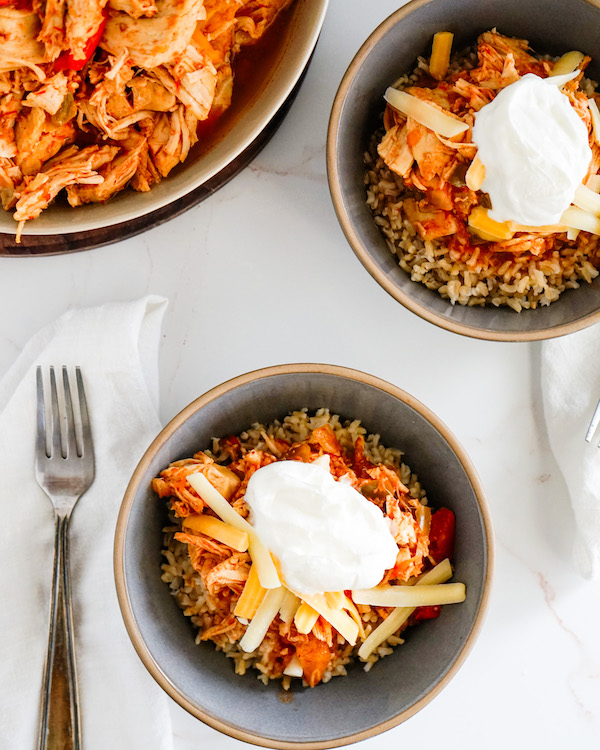 Back to this recipe. I like to trim my chicken before cooking it. So start my trimming your chicken if you want. Throw it the crockpot. Slice your peppers and throw them in the crockpot. Add in your chicken stock, salsa and taco seasoning and you are done. Let it cook for 6-8 on low or 4 hours on high. You can also use frozen chicken breast if you want. If you do, it will take 8 hours on low or 5 hours on high.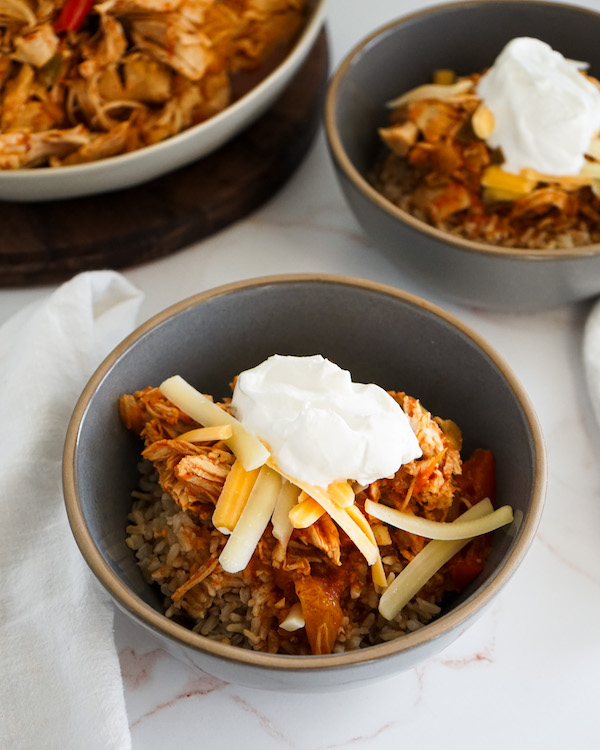 This recipe is great you can make tacos out of it. Or rice bowls like we did. But I also used it on a salad and made soup with the leftover chicken. I have also froze the leftovers for a meal.
See tips on how to make a smaller batch of this.
That's an Easy Meal from my Kitchen to your Kitchen 💕
Billie-Jo
Ingredients
3 lbs of chicken breast

2-3 large peppers slice into thin strips

2 cup chicken stock/broth 

1 24 oz jar of salsa

2 packets taco seasoning

Toppings-Sour Cream, Cheese, Cilantro
Directions
Trim your chicken breast if needed. Place chicken breast in the bottom of the crockpot.

Slice peppers and place in the crockpot. 

Add chicken stock/broth.

Add salsa.

Add in taco seasoning.

Cook on low for 6-8 hours or high for 4 hours. 
Ready in 6-8 hours
12 people
Tips & Recommendations
I use three lbs of chicken because I want leftovers. If you want to only 2lbs, add 1 1/3 cup of chicken stock/broth. Use a 16oz jar of salsa and 1 packet of salsa.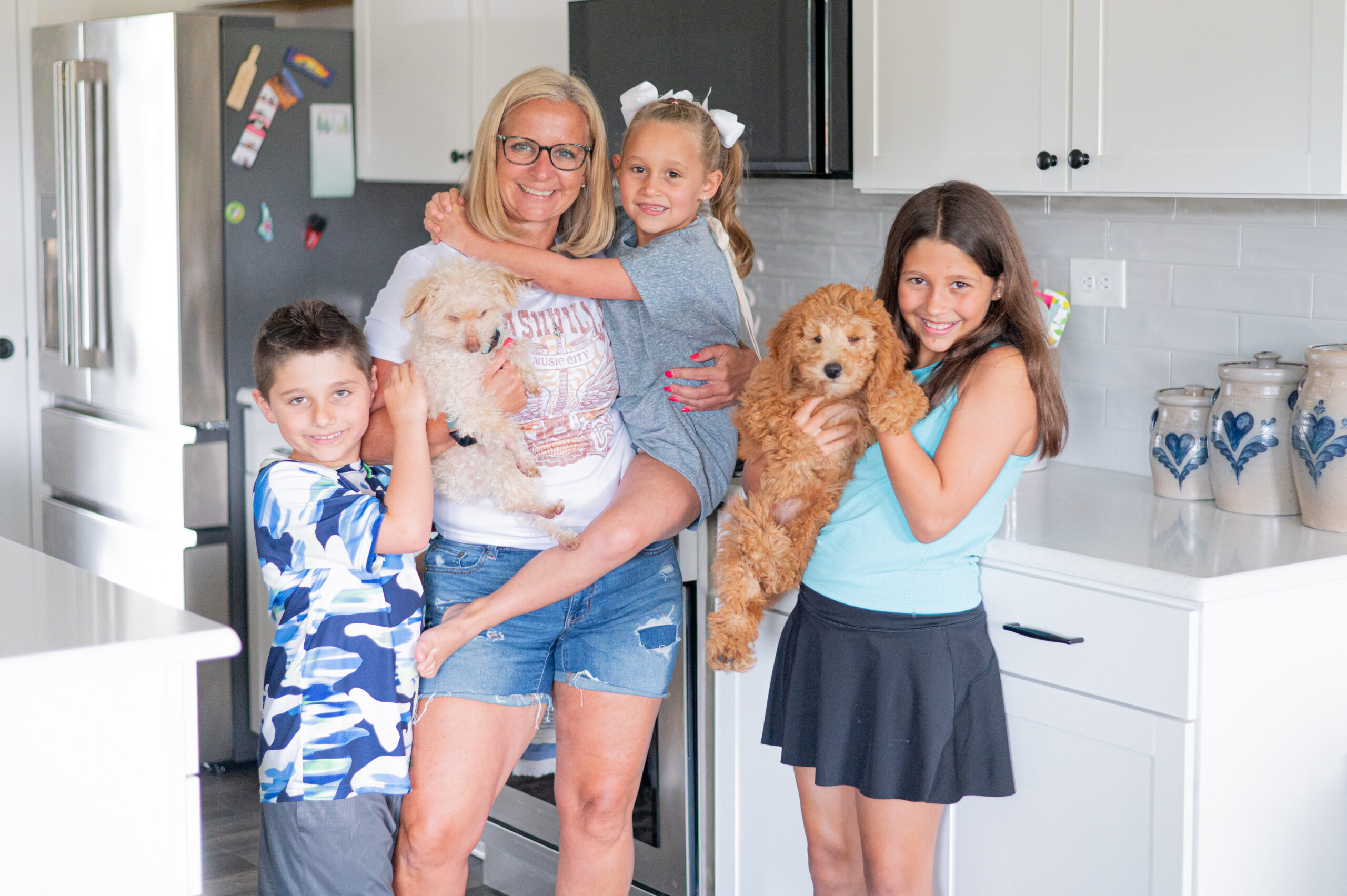 Latest Recipes