RECIPE
Easy Baked Chicken Taquitos
I was at my best friend helping her decorate for Christmas and we were talking about grocery shopping and easy meals. She was telling me she gets a rotisserie chicken for an easy meal and I was like I never thought about that. So it got me thinking about getting one and making a recipe out of it. Which leads us to this recipe…Easy Baked Chicken Taquitos. I mean who doesn't love an easy meal!!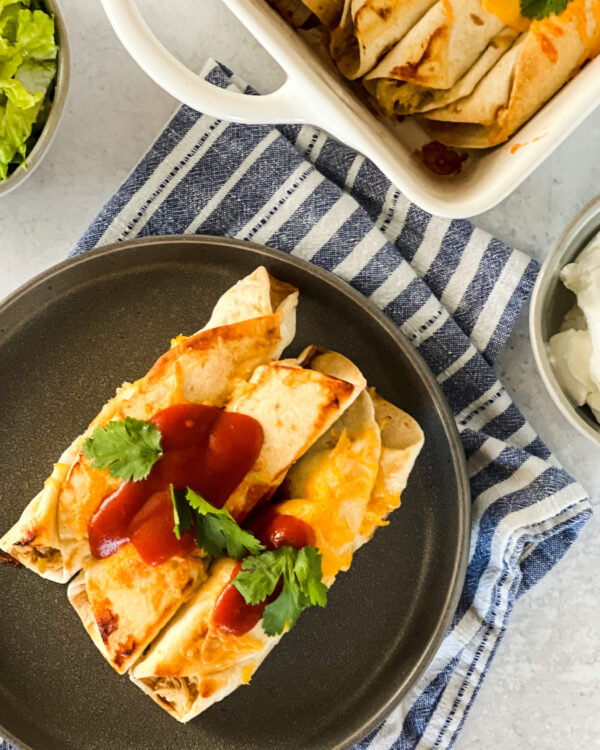 My bestie told me when I got the rotisserie chicken to pull the meat off it, because it is easier to take off when it is warm. So a little tip for you. I took the chicken off, shredded it and placed it in the fridge. They next day the magic happened with the chicken. I added the shredded chicken, all the spices and lime juice to a large bowl. I mixed it all together and added some cheese. Next up I made the taquitos. I couldn't believe how easy the meal was and it was absolutely delicious!! Like I texted Jimmy and was like oh my this is so good. He took some to work and people were like they look so good. He goes they are. The kids loved them and they were great for leftovers for lunch!!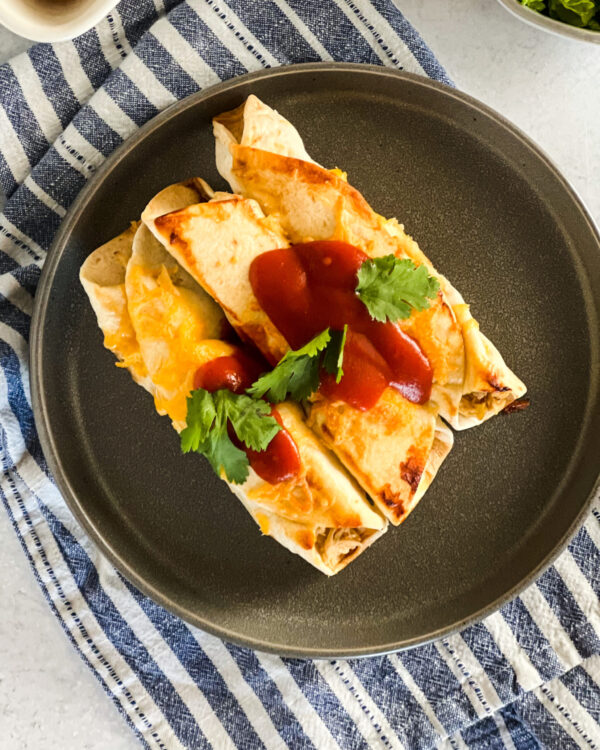 I love having easy and delicious recipes on repeat for the menu!! Check out some other easy 30 meals I have.
That's What Is Happening In My Kitchen 💕
Billie-Jo
Ingredients
3 cups of shredded chicken, we used a rotisserie chicken

½-1 tsp salt (to taste)

1 tsp cumin

1 tsp garlic powder

1 tsp chili seasoning

½ tsp black pepper

½ tsp paprika (optional)

Juice from 1 lime

20-24  flour shells

2 cups of shredded cheddar cheese or Mexican blend cheese.

Toppings-Cilantro, Taco sauce, Salsa, Sour Cream, Guacamole and additional Cheese
Directions
Preheat the oven to 425, spray a large  baking sheet with sides with cooking spray. You can use a large deep dish too. 

Pull the chicken from a rotisserie chicken and place in a bowl. Shred the chicken.

Add salt, cumin, garlic powder, chili seasoning, black pepper, paprika and juice from 1 lime. Mix all together.

Add 1 cup of shredded cheddar cheese or a Mexican mix of cheese to the chicken mixture. 

Place 1½-2 large heaping tablespoons on each tortilla shell and spread in the middle. Roll each tortilla shell and place in the prepared dish with the seams facing down. Continue until the shells are filled, rolled and in the pan. Bake for 18-22 minutes. After 10 minutes carefully flip  each taquito. Sprinkle the tops with remaining cheese. They are done when the taquitos are brown and crispy.

Serve with your favorite toppings. 
Ready in 30 minutes
Serves 8-10 people
Tips & Recommendations
Serving size really depends on how many everyone eats. Two of my kids ate 4 of them for dinner. Use your favorite cheese.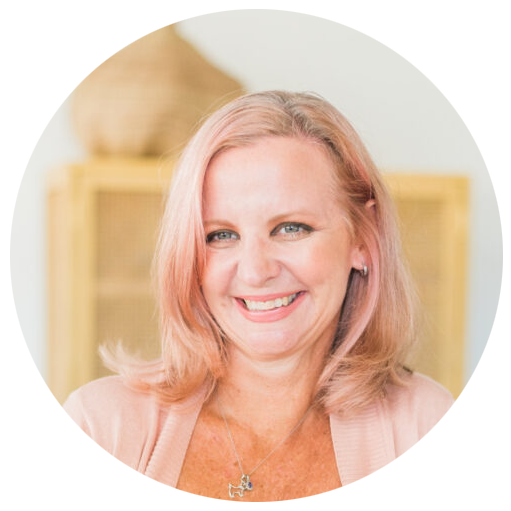 Hey there!!
I'm Billie, a recipe creator, food photographer, a girl that just loves to be in the kitchen and a travel lover. more >
Related Recipes