RECIPE
Easy Taco Pie
Change up Taco Tuesday and make this Taco Pie. This taco pie is a hit with kids and how can it not be? They are eating pie for dinner. A fun meal for kids and sometimes we all just need a little fun for dinner.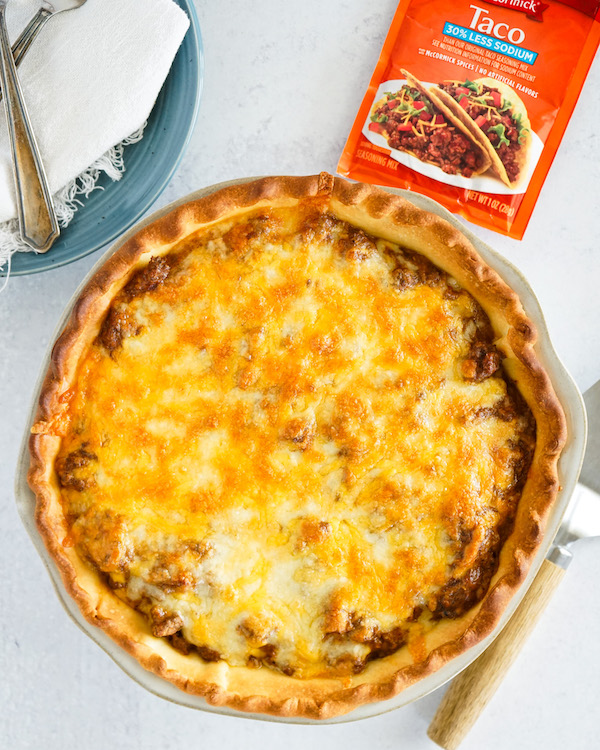 This is such an easy dinner to make. It all starts with a pizza crust for the crust, you can do a pie crust if you want, I prefer the pizza crust. Just roll out the pizza crust so hangs over about an inch or so over the pie dish. Make sure to use a deep dish pie and spray the pie dish. I pinch the edge on the top, so it makes it look a little fancy. Through some pie beans or dried beans in the pie crust and bake it for 10-12 minutes. While the pie crust is baking, I cook the ground beef and onions. Throw in the garlic and mix it. Drain the meat if necessary. Extra lean ground beef there really isn't anything to drain. Mix in the taco seasoning and water. I went with the directions on the taco mix packet. Season with salt and pepper to taste. I say this because every taco seasoning is different. Mix in the salsa and sour cream. Once that is mix, add in half the cheese. By this time the pie crust will be done (don't forget to remove the beans) and the meat mixture will be ready to go into the pie crust. Add the remaining cheese. Bake for another 12-15 minutes. I let my cook a little longer, because we like are cheese more done. Let it sit for 5-10 minutes before serving. You can top with additional sour cream, lettuce and tomatoes if you want. We left it plain, because that is how my family eats it.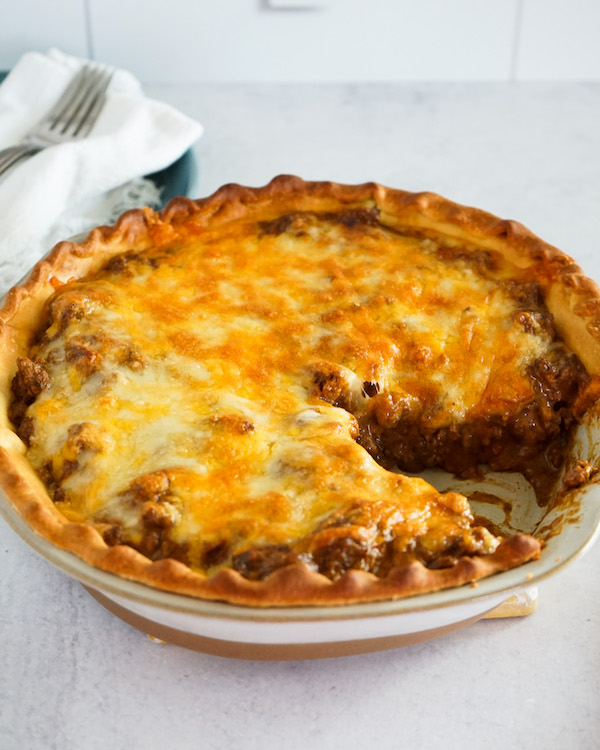 This was a meal I made all the time when Jimmy and I first got married. When I was looking for meal ideas, Jimmy through this meal out for an idea. It was perfect because I wanted to make something with ground beef. I don't know about you, but ground beef is usually one meat I always have on hand.
Now my kids want want more meals in a pie dish. So stay tuned for that one, you never know what we will come up with.
Happy Taco Night From My Kitchen To Your Kitchen 💕🌮
Billie-Jo
Ingredients
Premade pizza crust

2 lbs lean ground beef

1 small or ½ large onion diced

2 garlic cloves minced

1 package of taco seasoning

1 cup sour cream

1 cup salsa

4 cups grated cheese divided Colby, Mexican and Cheddar are my favorite to use

Additional sour cream, lettuce and tomatoes are optional
Directions
Preheat the oven to 375.

Spray the bottom of the pie dish with baking spray. Roll out pizza crust a little bit. You want the crust to hang over the edge about an inch. Place pizza crust in the pan and pinch edges. Place some cooking beans on top. Bake for 10 minutes. Remove from the oven when done and remove beans.

While the crust is cooking, start cooking your meat and onions. In a large skillet add the ground beef. Cook until almost done. Throw in the garlic and mix.Drain meat if necessary. I used 96% lean ground beef so very grease comes from that. 

Add taco seasoning and water per direction. 

Season with salt and pepper to taste. 

Mix in salsa, sour cream and 2 cups of cheese. Mix until combined. Cooking the meat and adding ingredients should take about 10-12 minutes. 

Pour meat mixture into the cooked crust. Add remaining cheese on top and bake for about 15 minutes or until it is done enough for you.

Let sit for about 10 minutes before slicing into it and serving. 
Ready in 30 minutes
Serves 6-8 people
Tips & Recommendations
Make sure to let your pizza crust sit our for about 15 minutes before you try rolling it a little bit. Make sure to use a deep pie dish. There is a lot of meat in this pie.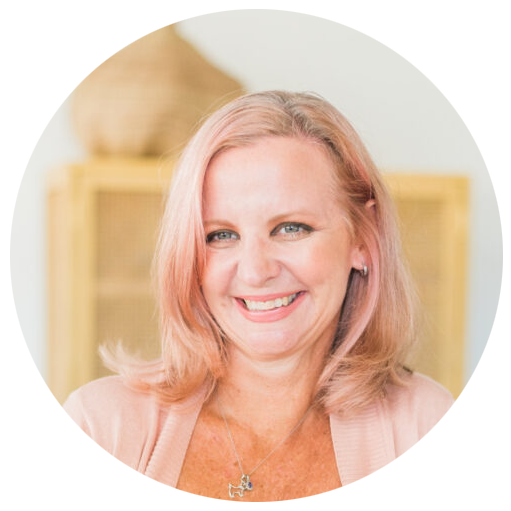 Hey there!!
I'm Billie, a recipe creator, food photographer, a girl that just loves to be in the kitchen and a travel lover. more >
Related Recipes