RECIPE
Healthy Shrimp Scampi
This dinner is definitely a favorite of mine. One it is delicious. Two it's shrimp. Three it's so easy to make. I could make this every week for dinner and wouldn't get sick of it. I use shrimp from a local seafood guy, because he has the best shrimp. I think it is so important to use good ingredients and I love shopping local. My seafood guy is the best.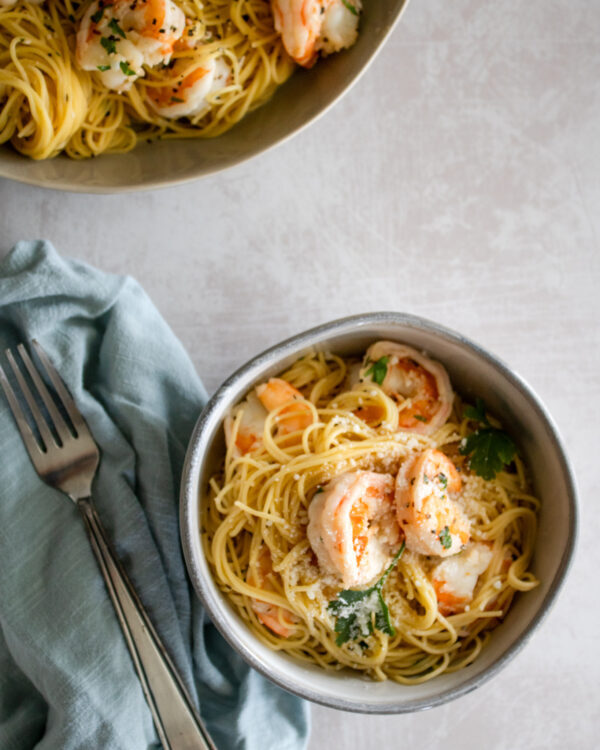 I learned years ago to use pasta water for a lot of dishes. Maybe from Giadi on the Food Network? Not sure if that is where I learned it, but I will say I am so glad I did. It makes a huge difference in so many of my pasta dishes. It adds a lot of flavor and not the calories. I only add a little bit of white and only 1 tbsp of butter!!  I add a little bit of red pepper to my recipe, but you don't have to. This dish isn't lacking any flavor.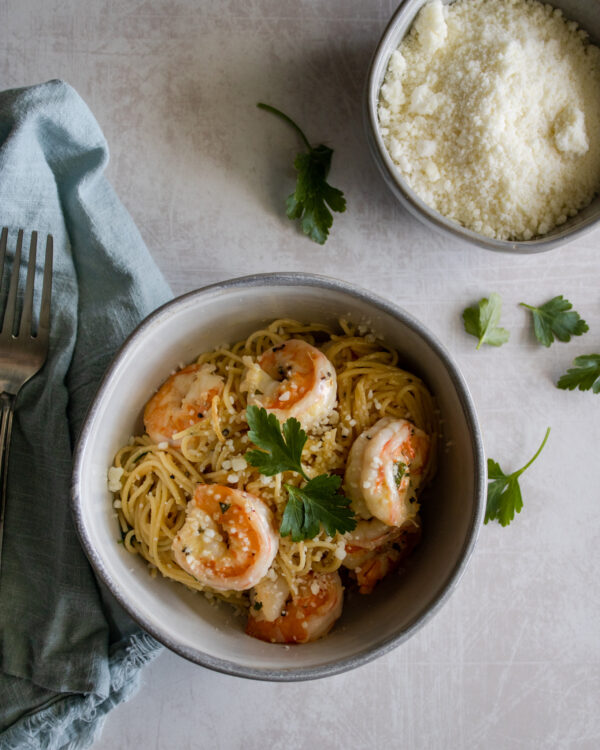 Top this dish with a little bit of fresh Parmesan cheese and little bit of fresh parsley.
That's the Dish from my Kitchen to your Kitchen 💕
Billie-Jo
Ingredients
1 ½ pounds of peeled and deveined shrimp

2 tbsp of olive oil

1 tsp minced garlic

Salt and pepper to taste

Red pepper

1 tbsp unsalted butter

⅓ cup white wine 

⅓ cup chopped parsley

1 box of Barilla protein angel hair pasta
Directions
In a large pot, boil your water for the pasta.  Make sure to add salt to your water. Cook past until almost done. 1-2 minutes short  of being fully cooked 

While the pasta water is boiling and cooking, heat the olive oil in a large skillet.

Add minced garlic, red pepper, salt and pepper. 

Add the shrimp, butter and white wine,, cook for a few minutes before turning each shrimp.

When shrimp is almost cooked, add pasta and about 2 cups of pasta water. Shrimp and pasta will finish cooking.

Add chopped parsley and a little bit of salt and pepper to taste. 

Serve with fresh parmesan cheese.
Ready in 30 minutes
Serves 4 people
Tips
If using frozen shrimp, make sure it is thawed completely.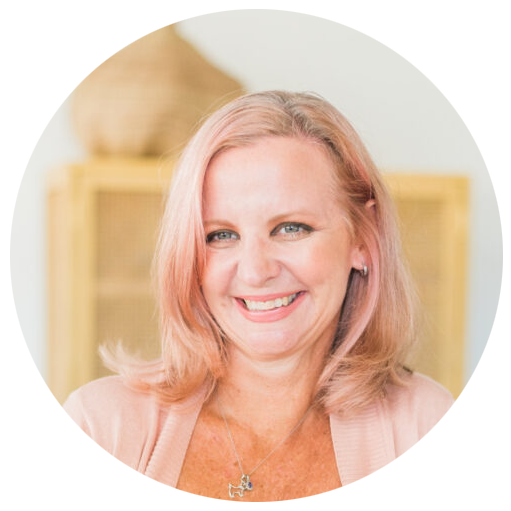 Hey there!!
I'm Billie, a recipe creator, food photographer, a girl that just loves to be in the kitchen and a travel lover. more >
Related Recipes