RECIPE
Lemon Meltaway Bars
I have been working on recipes for the kids. Because when they move here, I will be packing their lunches and will need after school snacks. The kids love lemons, like the two oldest ones love to eat them. The youngest two love to put lemon in their water like I do. So I decided to make lemon bars. These bars aren't your traditional lemon bars. They are a take on my almond meltaway cookies. So if you love those cookies, you will love these bar cookies. I am not a huge lemon person, but these bars are absolutely amazing. They are a soft cookie bar with lemon flavor and that lemon glaze poured over top just is perfect. Can you say yum?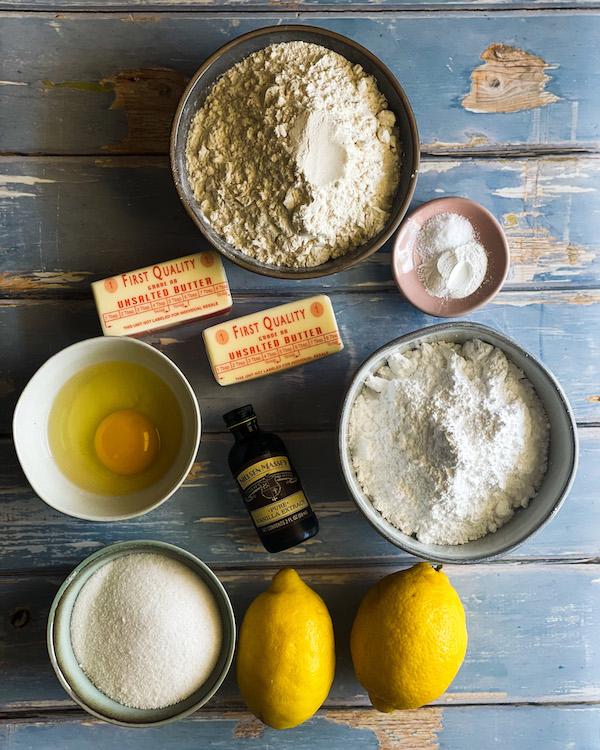 I love that these cookie bars are easy to make. You will see that when you make them. Sometimes lemons are really juicy and other times they aren't. In the past week I have had lemons that barely had any juice and some that were so juicy.When it comes to putting the dough into the pan, I find spraying cooking spray on your hand, makes it easier to spread the dough and the dough doesn't stick to your hands either.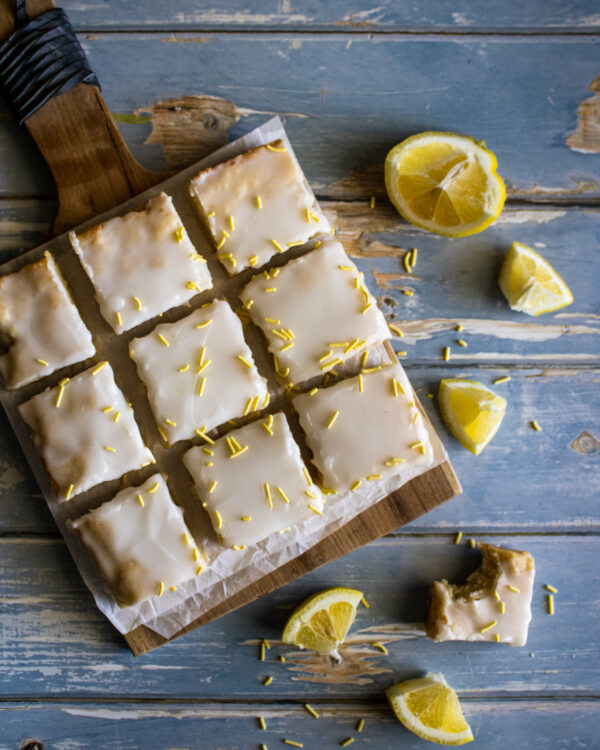 You wanna make sure you let the cookie bar cool before adding the glaze. If you don't the glaze will melt all over the bar cookies.  So I like to make sure it cools about 15 minutes before adding the glaze.  I let it cool for about 5 minutes before I use the parchment paper to life it out of the pan and put on the cooling rack to finish cooling.
That's the Dish from my Kitchen to your Kitchen 💕
Billie-Jo
Ingredients
1 cup unsalted butter room temperature

1 cup sugar

Zest from 2 large lemons or 3 small lemons

1 egg room temperature

1 ½ tsp vanilla extract

2 ¼ cups flour

1 tsp baking powder

½ tsp salt

Juice from 1 lemon (about 1-2 tbsp)

1 ½ cups powdered sugar and juice from 1-2 lemons
Directions
Preheat the oven to 350. Line a 9×9 pan with parchment paper, set the pan aside. 

Zest lemons into sugar, mix for a minute and stand for 4 minutes. This will help the lemon flavor to increase.

Cream butter and sugar until light and fluffy, about 3 minutes. 

Mix in vanilla extract and egg, mix until incorporated.

Add flour, baking powder and salt. Mix until combined. 

Add in juice from the lemon. Mix until combined.

Spread dough into the bottom of the prepared pan.

Bake for 30 minutes or until done. 

While the bar cookie is cooling.Let it cool for 5 minutes before removing the bar to a cooling rack to cool more. Make your glaze. 

Whisk together 1 ½ cups powdered sugar and juice from 1-2 lemons. Pour glaze over bars.

Enjoy.
Ready in 60 minutes
Makes about 16 bar cookies (9x9 pan)
Tips
If your lemon is really juicy start with half of a large lemon for the dough. For the glaze you want the consistency to be pourable, start with 1 lemon.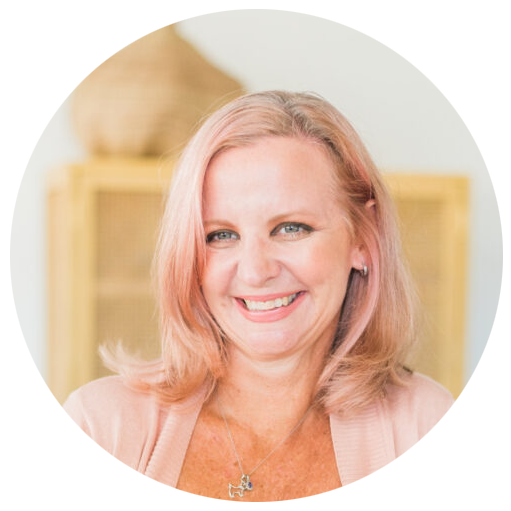 Hey there!!
I'm Billie, a recipe creator, food photographer, a girl that just loves to be in the kitchen and a travel lover. more >
Related Recipes