RECIPE
Maple Walnut Coffee Cake
One of my favorite Fall and Christmas flavors is maple. Something about the warmth of maple brings me back to growing up. Pair maple with some walnuts and you have got me hooked. My dad always loved maple and walnuts. So this recipe I know he would love for breakfast with a cup of coffee. I love recipes that make you feel things, bring back memories or create new memories. To me food should speak to us.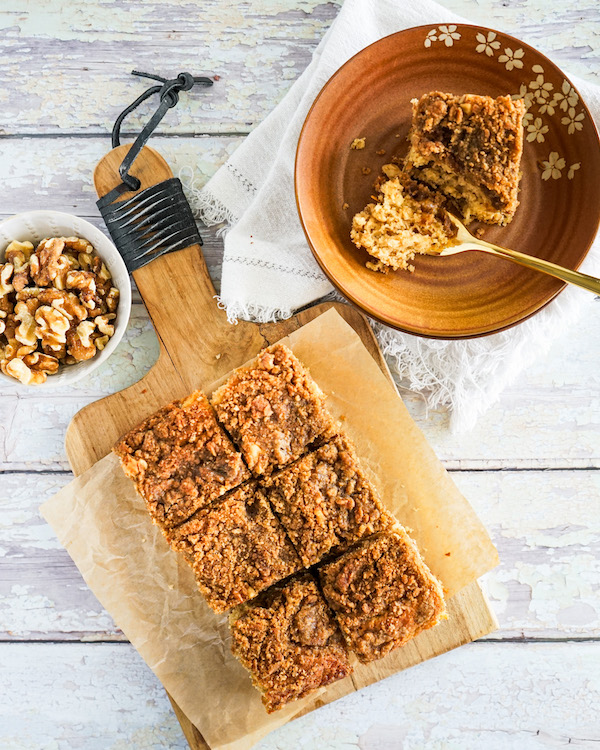 What is coffee cake? Coffee cake here in the US is referred to a sweet cake that pairs with coffee. It doesn't mean there is coffee in it, in fact most of the time there is no coffee in coffee cake.
Why this coffee cake?
It is light and fluffy
Full of flavor with the maple and walnuts in the cake and the cinnamon and walnuts in the crumb topping
Simple and easy to make
A perfect breakfast or brunch cake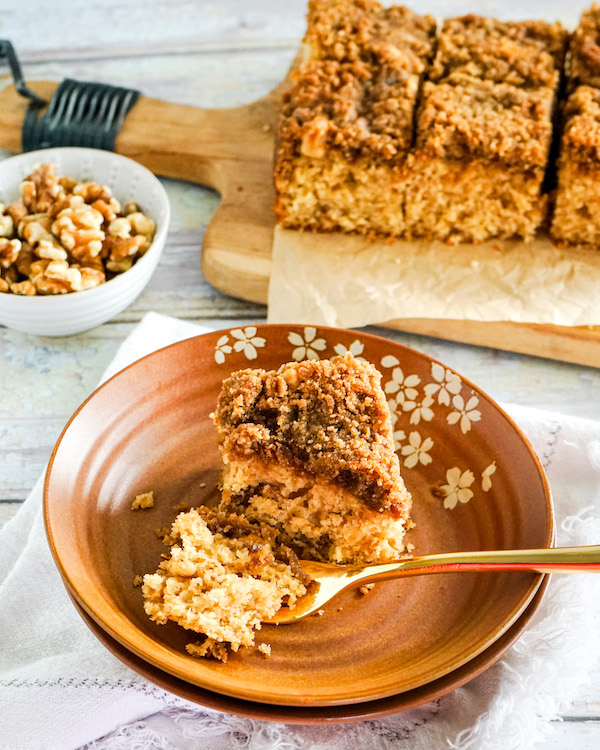 I make the crumb topping first and set it sit until I am ready to add it to the top of the cake batter. I use oil for the cake part, because I want the cake to be super moist. I use butter in the crumb topping to get the butter flavor. The maple syrup is the star of the cake, so make sure to use a good syrup. I use cinnamon in the topping for even more flavor.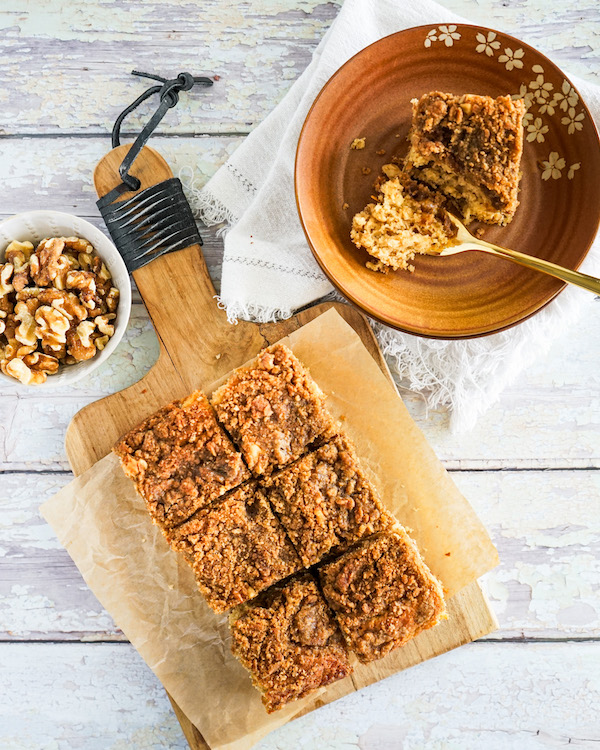 Can you make this in a different pan. Yes a 8″x8″ pan will take a little bit longer to make. You can double the recipe to bake in a 9″x13″, but you will need to adjust the bake time. You can make it in a round cake pan, depending on size you will need to adjust the bake time a little bit.
Ingredients
2 ¼ cups all purpose flour, spooned and leveled

2 tsp baking powder

½ tsp salt

⅔ cups brown sugar 

⅔ cups chopped walnuts

½ vegetable or canola oil

½ cup maple syrup

1 cup sour cream or yogurt

2 large eggs room temperature

2 tsp vanilla extract

Cinnamon Streusel-¼ cup butter soften, ⅔ cup brown sugar, ½  cup all purpose flour spooned and leveled, ⅓ cup chopped walnuts, 1 tsp cinnamon and dash of salt
Directions
Preheat the oven to 350. Line a 9"x9" pan with parchment paper and spray with baking spray. Set aside. 

In a small bowl, make the topping. Mix together the softened butter, brown sugar, flour, walnuts, cinnamon and salt. Set aside. 

In a large bowl whisk together flour, baking powder, salt, brown sugar and walnuts. Set the bowl aside. 

In a medium bowl whisk together oil, maple syrup, sour cream, eggs and vanilla extract. 

Make a well in the center of the dry ingredients and pour the wet ingredients into the bowl. Mx together until combined. 

Spread the batter into the bottom of the prepared pan.

Sprinkle the topping on top of the batter. Bake for 35 minutes or until a toothpick comes out with little to know crumbs.
Ready in 50 minutes
Makes about 9"x9" pan
Tips & Recommendations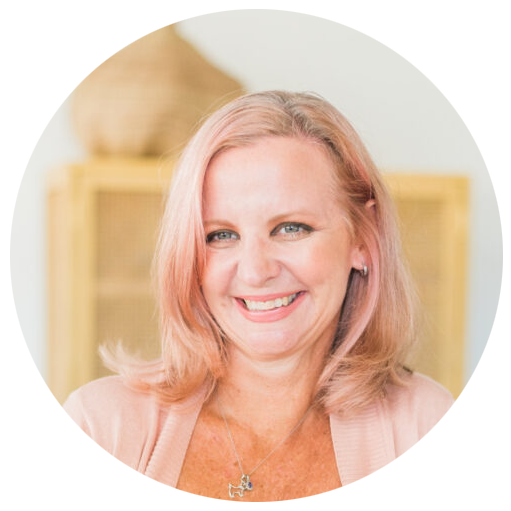 Hey there!!
I'm Billie, a recipe creator, food photographer, a girl that just loves to be in the kitchen and a travel lover. more >
Related Recipes