RECIPE
One Pot Sausage Dinner in 30 Minutes
One pot sausage dinner and a 30 minute dinner in the same meal? Sign me up!! I love easy meals, especially ones that can be made in 30 minutes and use just one pot!! As a busy mom, I am always working on simplifying meals and making easy meals. Mom, I hear you!!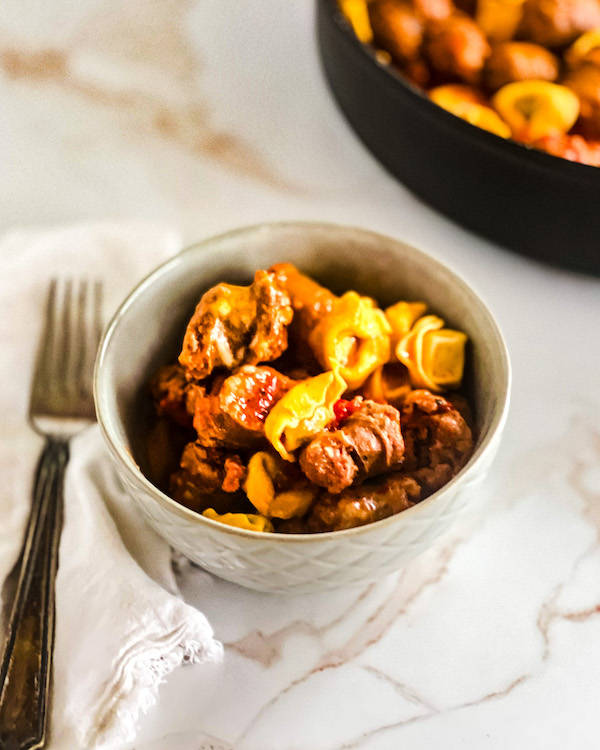 I love using both hot and regular Italian sausage for this dinner. One I prefer the hot and spicy, I like my spice!! Sometimes the spicy is too hot for the kids. Little tip, just cut them in different sizes so you can have what you like. I find by cutting the regular into smaller pieces, the kids don't struggle with eating and I don't have to cut it. Aren't there many times, we ignore what we like and cater to the kids? In this meal you can both.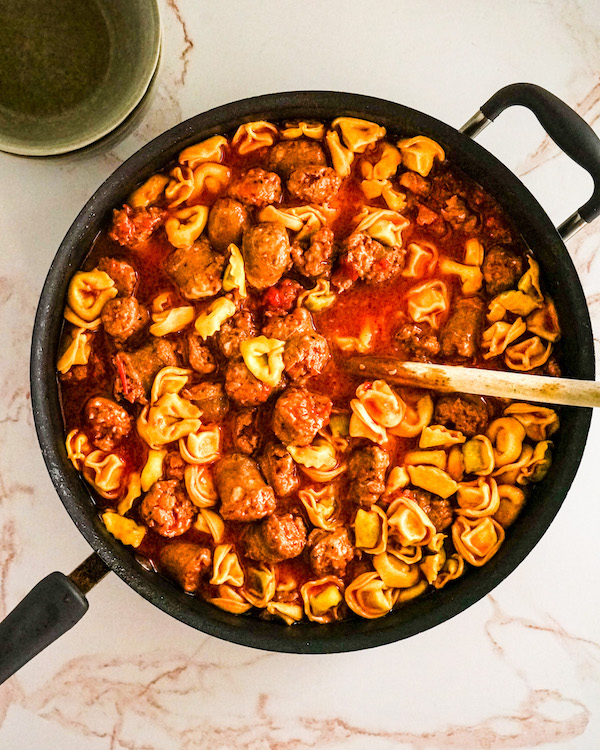 I use fresh tortellini, it takes less time to cook. Remember I wanted a meal in 30 minutes or less. I use a mixture of cheese and spinach. If I can sneak some extra veggies into a meal, I will. If you switch out to a pasta, it will take a longer to cook and you will need to add a little bit more water, so the pasta can cook.
I grew up with putting parmesan cheese on anything Italian and I am raising my kids the same way. Jimmy was not raised this way. Are you the type to put cheese on anything Italian like me????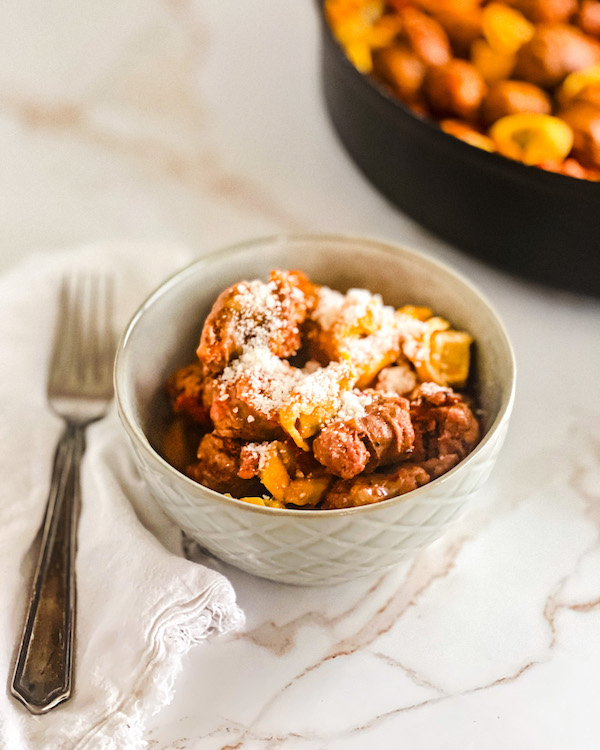 I know you will love this easy one sausage dinner in under 30 minutes!!
That's The Dish From My Kitchen To Your Kitchen 💕
Billie-Jo
Ingredients
2 tbsp olive oil

2-3 lbs Italian sausage  sliced into ½"-1" slices (I like a mixture of hot and regular)

3 garlic cloves minced

28 oz whole or crushed tomatoes

16 oz of chicken or vegetable stock

1 cup water

Salt and pepper to taste

¼ tsp red pepper optional 

24 oz fresh tortellini or pasta of choice (see notes for frozen tortellini)

2 cups of shredded mozzarella cheese
Directions
On medium heat add olive oil to a large skillet. Let olive oil heat for a minute or two before adding the sausage.

Cook sausage until almost done and add in the garlic. Depending on the size of sausage, it should take about 8-10 minutes. 

Add in tomatoes, chicken broth and water. Cover with a lid and cook on low for 10 minutes. 

Add in tortellini, and cook for about 5 minutes. (see tip section),

Stir in mozzarella cheese and cook for another 2 minutes or until the cheese is melted. 

Let sit for a few minutes before serving.

Top with parmesan cheese if desired. 
Ready in 30 minutes
Serves 8-10 people
Tips & Recommendations
You can cut the casing of the sausage and make it ground sausage if you would like. I use hot and regular Italian sausage. I cut them in different sizes. so I can tell which is which when I serve. After you add the tortellini to the pot, cook per direction. Package tortellini has different cooking times. Frozen tortellini will probably have a longer cook time.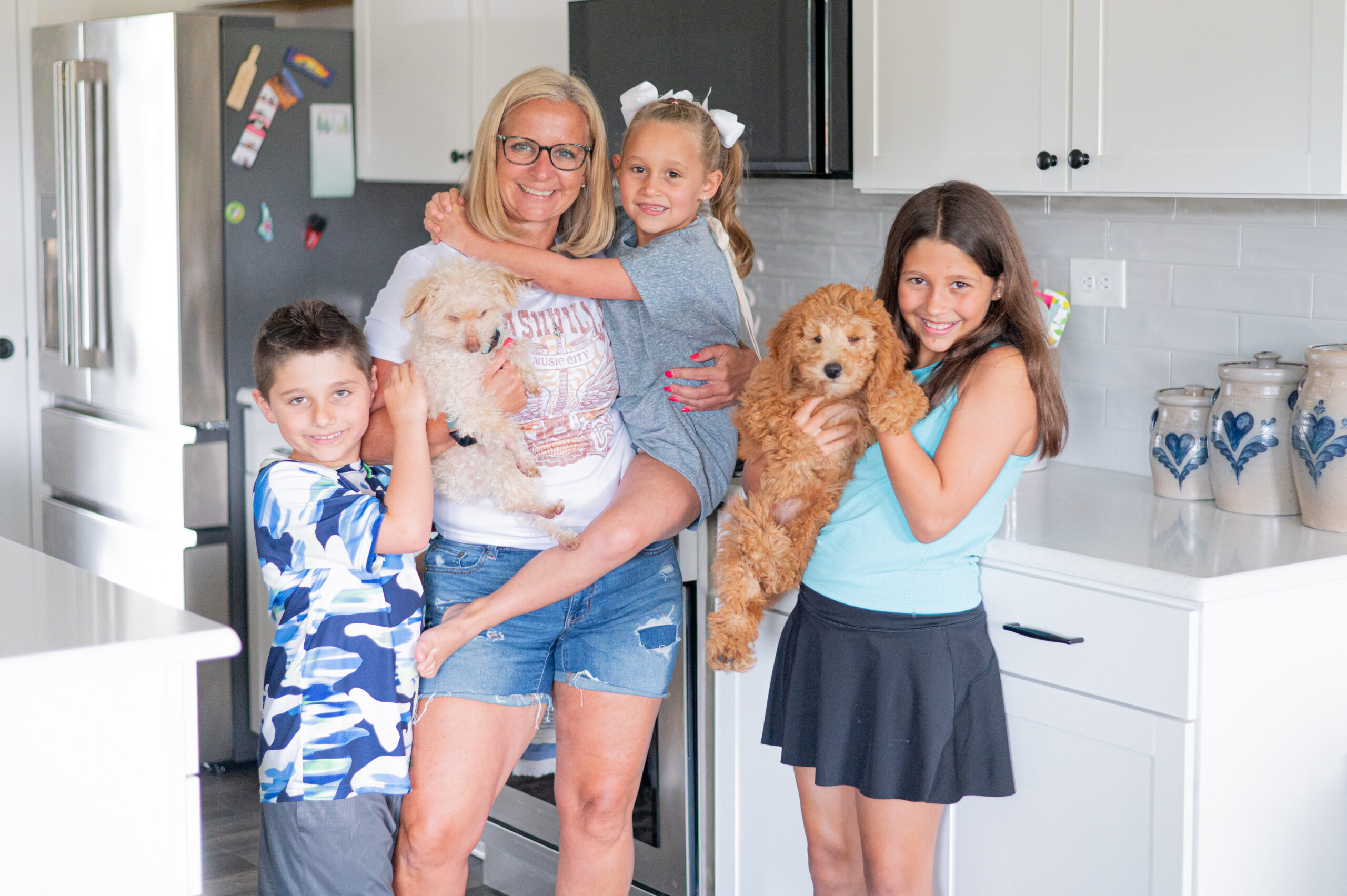 Latest Recipes