RECIPE
Pumpkin Cream Cheese Crumb Cake
Isabella and I were baking a few weeks ago and she wanted to make a new recipe. Originally she wanted to make something for breakfast, like my pumpkin crumb cake. We ended up making a pumpkin cream cheese crumb cake, a twist on my pumpkin crumb cake. She was as adorable as always baking. The biggest thing I have learned baking with kids is that they will make a mess and a big mess most of the time. And that is hard for me, the person who likes to keep things clean and neat when in the kitchen.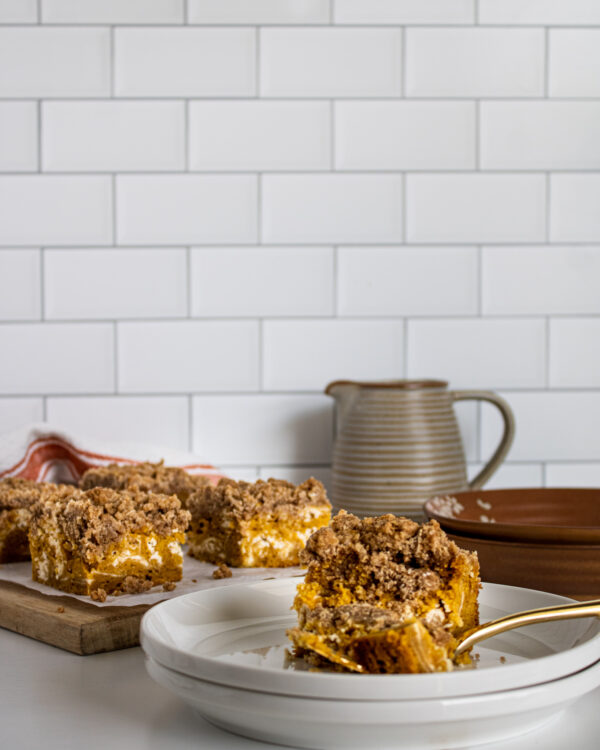 It does have a few steps but overall it is pretty easy to make. Start by making the crumb topping (which is my favorite part) and set it aside. Then make the cake and pour the batter into the prepared cake pan. Make the cream cheese filling and swirl it through the cake. Top with the crumb topping, which is Isabella's favorite part to do it.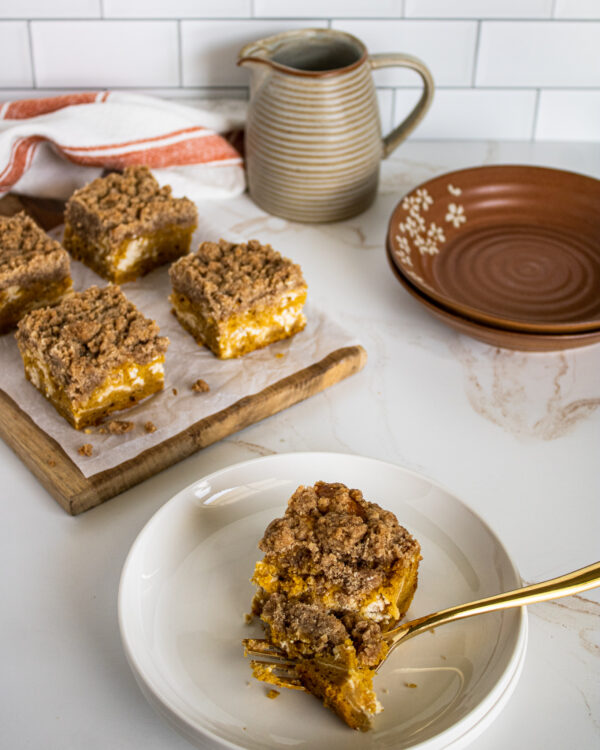 Not only do I love the flavor of this cake, but it is so moist and delicious too. This cake was a huge hit with everyone that tried it. This is a definite must bake recipe for Fall. Happy Baking!!
That's the Dish from my Kitchen to your Kitchen 💕
Billie-Jo
Ingredients
Crumb Topping-1 ¾ cups all purpose flour spooned and leveled, ¾ cup brown sugar, 1 ½ tsp cinnamon, ¼ tsp salt

Cake

1 ⅓  cups all-purpose flour

½  cup brown sugar

⅓  cup sugar

2 tsp baking powder

½  tsp baking soda

½ tsp salt

2 tsp cinnamon

1 tsp pumpkin spice

⅓ cup canola oil

1 cup pumpkin puree (not pumpkin pie filling)

¼ cup buttermilk room temperature

2 eggs room temperature

2 tsp vanilla

Cream Cheese Filling-1 8oz cream,

¼ cup sugar,

1 large egg room temperature
Directions
Preheat the oven to 350. Line a 9×9 pan with parchment paper, set aside. 

Crumb topping-whisk together flour, brown sugar, cinnamon and salt. Mix in melted butter and set aside. 

In a separate large bowl whisk together the flour, brown sugar, sugar, baking powder, baking soda, salt, cinnamon and pumpkin spice, set aside. 

In a separate bowl whisk together oil, pumpkin puree, buttermilk, eggs and vanilla.

Add the wet ingredients into the dry ingredients. Mix until just about combined. Pour batter into the prepared pan. 

In a separate bowl using a hand mixer or stand mixer, cream together the cream cheese, sugar and vanilla extract. 

Drop dollops of the cream cheese mixture over the cake batter. Using a knife, swirl the cream cheese through the batter. 

Sprinkle the crumb topping on top. Bake for 35-40 minutes or until done. Cake is done when a toothpick comes out with very few crumbs on it.
Ready in 60 minutes
Makes a 9"x9" pan, 16 bars
Tips
Make sure to use pumpkin puree, not pumpkin filling. Make sure cream cheese is slightly cool. Don't over mix the cream cheese, it will fall apart if you do.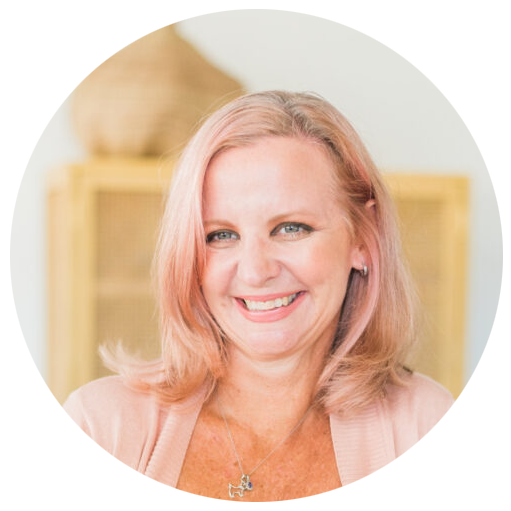 Hey there!!
I'm Billie, a recipe creator, food photographer, a girl that just loves to be in the kitchen and a travel lover. more >
Related Recipes