RECIPE
The Best Apple Crumble Muffins
This apple crumb muffin is the best muffin I have ever had made. It is amazing, I really mean it!! I could eat everyone of them!! Everyone that has tried these muffins, said this muffin is amazing!!! It is a soft muffin, that is moist and full of flavor!!! The kids love these muffins too. They make a great snack for school and perfect for an after school tea party with Isabella.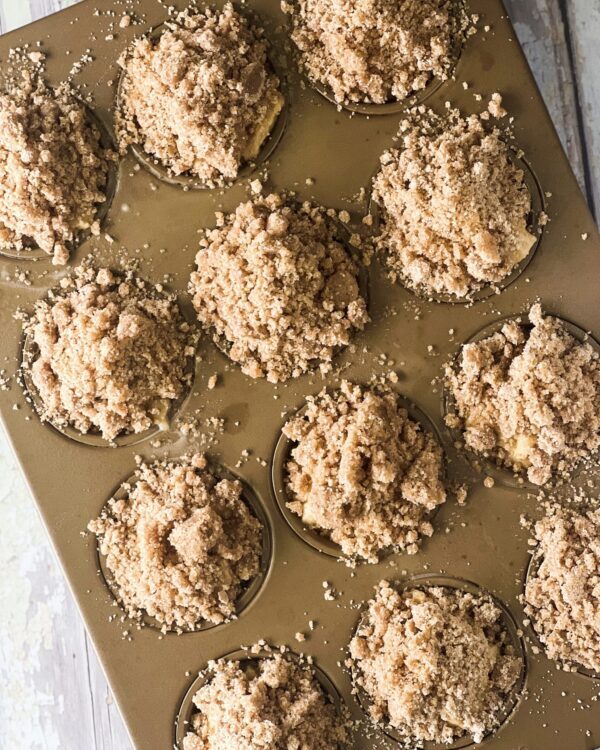 These muffins have a few steps, but don't let that scare you away. Just follow the directions and you will be golden!! It is important to make sure the eggs and buttermilk are room temperature, this is important in helping the muffins rise. I brown the butter because it really makes everything better. (yes I use a lot of brown butter) These muffins are a big muffin. The batter will be filled almost to the top and when you add the crumb topping it will be to the top. I start by baking the muffins at 425 for minutes, this really helps the muffin rise. Then I lower the temperature to 350 for the rest of the bake time. Don't forget to lower the temperature, if you don't the muffins will burn.
I can't wait to hear how much you love these muffins!! They are my very favorite and I love them. I just know you will love them too,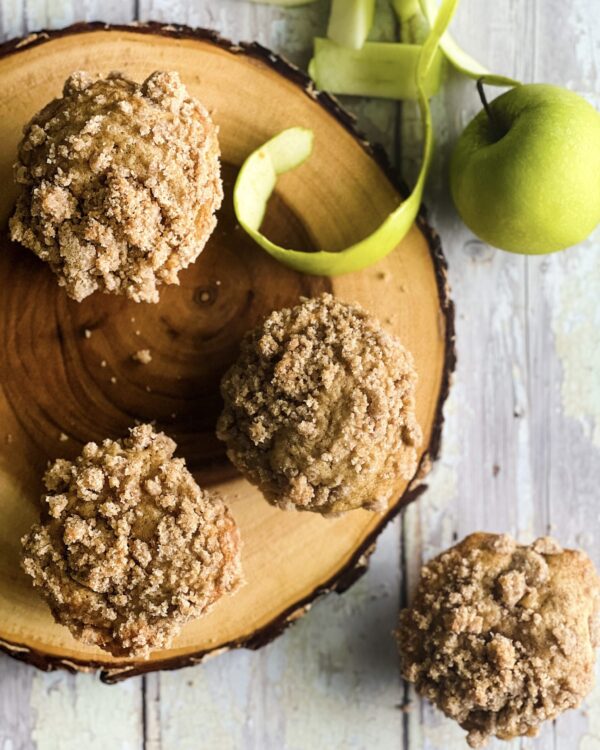 That's the Dish from my Kitchen to your Kitchen 💕
Billie-Jo
Ingredients
1 ¾ cups of all purpose flour spooned and level

1 tsp baking soda

1 tsp baking powder

1 tsp apple pie spice or all spice

½ tsp salt

½ cup melted brown butter slightly cooled

⅓ cup sugar

⅓ cup brown sugar

2 large eggs room temperature

2 tsp vanilla extract

¾ cup buttermilk room temperature

1 ½ cups chopped apple (granny smith and honey crisp)

Crumb topping-6 tbsp melted butter, ½ cup brown sugar, ¾ cup all purpose flour, 1 tsp cinnamon and dash of salt
Directions
Preheat the oven to 425. Grease a 12 count muffin pan, set aside. 

In a medium bowl whisk together the flour, baking soda, baking powder, apple spice and salt, set aside. 

In a separate large  bowl whisk together the brown butter, sugar and brown sugar. Add eggs and vanilla, mix until combined. 

Add half the dry ingredients to the wet ingredients and mix until combined. Add the buttermilk and milk until almost combined. Mix in remaining flour mixture.

Fold in chopped apples and mix until combined. 

Scoop batter into prepared muffin, set aside. 

In the bowl that had the dry ingredients make the topping. Mix together melted butter, brown sugar, flour, cinnamon and salt. Sprinkle topping on muffin batter. 

Bake at 425 for 5 minutes. Lower the temperature to 350 and bake for an additional 12-15 minutes or until done. Muffins are done when a toothpick comes out with a few crumbs on it. 

Place the tray on a cooling rack and allow to cool for 5-10 minutes before removing them from the muffin pan. 

Muffins will stay fresh for 3 days or can be frozen for up to 2 months. 
Ready in 30 minutes
Makes 1 dozen
Tips
To make buttermilk mix together 2 tsp of vinegar with milk. Apples can be peeled or not peeled. The muffins are big so they will overflow a little bit when baked.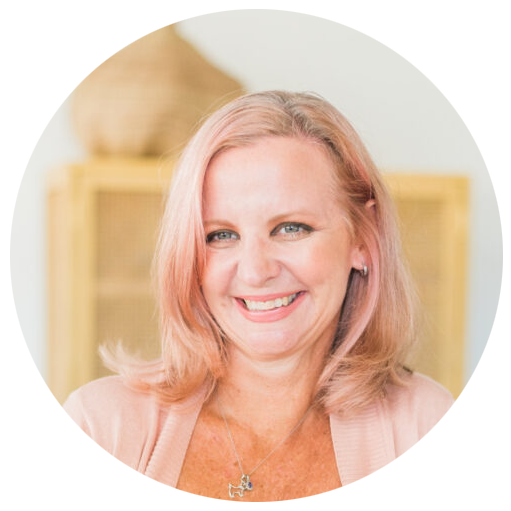 Hey there!!
I'm Billie, a recipe creator, food photographer, a girl that just loves to be in the kitchen and a travel lover. more >
Related Recipes